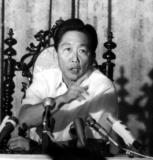 BATAS MILITAR
(Martial Law)
(September 21, 1972 - January 17, 1981)
SOURCES
Dark Legacy: Human rights under the Marcos regime by Alfred McCoy

Ferdinand Marcos and the Philippines: The Political Economy of Authoritarianism by Albert F. Celoza

Time Magazine

Philippine Daily Inquirer

New York Times

HUMAN RIGHTS VIOLATIONS
OF THE MARCOS REGIME

extrajudicial killings

3,257
2,520 or 77% of the victims were "salvaged"
tortured
35,000
incarcerated
70,000
disappeared
737
(between 1975 and 1985)
Source: "Dark Legacy: Human rights under the Marcos regime" by Alfred McCoy
TIMELINE
September 13, 1972 (Wednesday)
September 22, 1972 (Friday)
Before 9 p.m. - As Defense Secretary Juan Ponce Enrile was on his way home to Dasmariņas Village in Makati, a carload of gunmen intercepted one of the cars in his convoy and riddled it with 30 shots. But Enrile was riding with security men in a second car, so he was not hurt. The gunmen--tagged by the Marcos regime as "communist terrorists"--escaped. In February 1986, Enrile admitted the ambush was staged.


9 p.m. - Marcos called the ambush on Enrile "the last straw," and signed Proclamation 1081, which placed the entire country under martial law.

(The actual document was dated September 21, 1972 because Marcos believed his lucky number was 7, and 21 was divisible by 7. Other accounts say the document was actually signed September 17.)

September 23, 1972 (Saturday)
Arrested when martial law was declared
Sen. Benigno "Ninoy" Aquino
Sen. Jose Diokno
Sen. Francisco "Soc" Rodrigo
Ramon Mitra
Sergio Osmeņa, Jr.
businessman Eugenio Lopez, Jr.
teacher Etta Rosales
lawyer Haydee Yorac
publisher Joaquin Roces
publisher Teodoro Locsin
Amando Doronilla, Daily Mirror
Rosalinda Galang, Manila Times
Bobby Ordonez, Philippines Herald
Ernesto Granada, Manila Chronicle
Manuel Almario, Philippine News Service
Luis Beltran, Evening News
Rolanda Fadul, Taliba
Juan Mercado, Press Foundation of Asia
Luis R. Mauricio, Graphic magazine
Ninotchka Rosca, Asia-Philippines Leader
Napoleon Rama, Philippines Free Press
Amelita Reysio-Cruz, gossip columnist
George Sison, gossip columnist
broadcaster Jose Mari Velez
broadcaster Roger Arrienda
1 a.m. to 4 a.m. - Marcos ordered the arrest of his political opponents, the closure of schools and communication, and the government takeover of public utilities.


6 a.m. - "In the morning of September 23, people awoke without a newspaper on their doorsteps and with only the hiss of empty air over their radios."*
3 p.m. - Press Secretary Francisco Tatad went on air. It was the first time the nation learned of Proclamation 1071


7 p.m. - Marcos went on air to formally announce the proclamation of martial law. He imposed curfew and banned public demonstrations.

January 17, 1981 (Saturday)
Marcos issued Proclamation No. 2045, proclaiming the termination of the state of martial law throughout the Philippines. He also inaugurated the "New Republic" but retained all martial law decrees, orders, and law-making powers through Amendment Six to the Consitution. The formal termination of martial law was timed with the election of US PResident Ronald Reagan and the planned visit of Pope John Paull II in February 1981.